Vacancy Atlas
Plymouth based co- founders Jason Skelton and Elise Wilkes Brand both had backgrounds in the architectural profession and a real desire to help their local community. They identified an obvious gap in the market for an online platform capturing available vacant spaces in the city.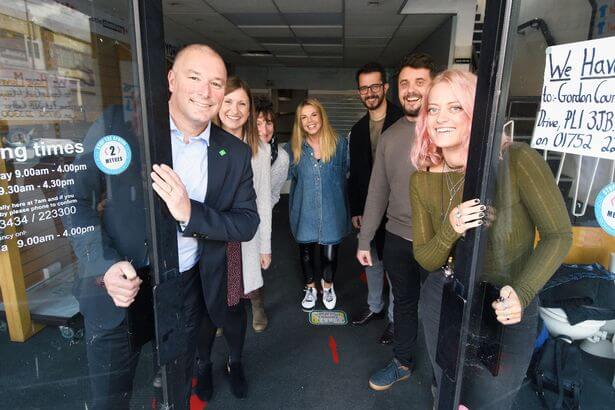 Vacancy Atlas is an innovative digital toolkit that offers flexible access and benefits for users in need of a commercial space and listing opportunities for the commercial owners to utilise these spaces, enabling new revenue streams. The end result is that the whole community then benefits through the improved visibility and use of these available local spaces.
During their start-up phase, the Outset team worked with the founders on finalising their business plan to ensure they could access grant funding to help accelerate their initial launch following a warm introduction from the Economic Development team at Plymouth City Council.
Vacancy Atlas were then successful in securing a grant of £7.5K from Plymouth City Council in 2021 via the Social Enterprise Investment Fund as the medium-term community impact of this initiative was obvious. The collaborative support from Plymouth City Council the Outset Team and the subsequent grant funding was integral in helping the team to quickly develop a holistic strong brand identity and also deliver the first phase of their fully functioning web-based platform.
Jason's thoughts on the support he received were;
the support from the outset team really helped us to consolidate our ideas into something tangible, with goals we could easily work towards. The online workshop sessions were really useful to understand some of the basics of running a business, as well as connecting with others in the same situation. Following on from this, outset provided us with invaluable help to ensure we were ready for the grant application, which was successful. Our first draft of the website is now live and we are working on improvements.
This foundation has meant that the Vacancy Atlas team were the obvious choice to be the lead project partner for Plymouth Culture, the City Centre Company and Plymouth City Council and their Meanwhile Use Programme. This initiative is designed to help revive and diversify the high street by finding new uses for vacant spaces impacted by the Covid pandemic. Other opportunities are now presenting themselves in the city, so the future is looking bright for the Vacancy Atlas team.
Looking ahead to 2022 Jason says:
2022 will be busy for us, we will continue working on our partnership to deliver the flagship Meanwhile Use initiative in Plymouth, as well as developing the online platform further to provide more functionality and features for our users.