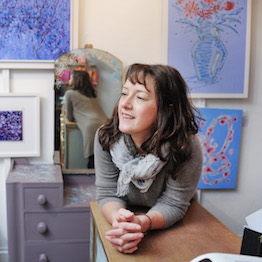 Lisa Harker Quirky Art
"Outset has some phenomenal people, and I am forever grateful for the encouragement I received."…
Lisa's story
Leafing through the pages of a newspaper one day, Lisa Harker chanced upon an article about the business start-up support provided by Outset Cornwall that was to dramatically change her life for the better.
Lisa had decided to take voluntary redundancy with a view to setting up her own business. "As I was waiting for an appointment with my solicitor to sign my leaver's agreement, I read the article. I made the call to Outset that day and the rest, as they say, is history," said Lisa.
Her motivation for setting up her own business was to do something that she believed in rather than being continually disappointed by the corporate world.
Originally from Yorkshire but now a permanent resident in Cornwall, fine artist Lisa creates individual, unique pieces of art and furniture with a love theme and an environmental ethos.
Lisa, who actually studied Law, joked that she didn't study art at college because she couldn't bear the thought of having to wear strange clothes and have her nose pierced!
She has always loved painting and exhibiting her work and was lucky enough to be featured in a national women's magazine. The article described how every time she is commissioned to do a painting for someone, the person finds love. The magazine feature provoked a storm of interest and, as a result of this, Lisa found the courage to open her own gallery, Lisa Harker Quirky Art, in Truro.
Artist and matchmaker Lisa, who has also discovered a new interest in restoring old furniture, admits that the support she's had from Outset has played a pivotal in her business progression.
"I don't think I could have done this without Outset; the business course is short, but it is excellent and gives a complete grounding. Plus, I successfully applied for funding that I couldn't have obtained from the bank. The main aspect however has been the support; Outset has some phenomenal people and I am ever grateful for the encouragement I received."