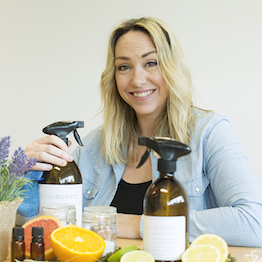 Innoscent Cleaning
"Outset offer an outstanding array of business workshops in an informal, friendly and empowering environment."…
Rebecca's story
With a passion for sustainable living, former English lecturer Rebecca Varcoe set up Innoscent Cleaning to provide an exclusively eco-friendly cleaning service.
Using homemade, 100% natural, toxin free, vegan and biodegradable cleaning products, Rebecca also adds essential oils that not only smell wonderful, but also provide an anti-bacterial, anti-viral and anti-fungal element.
"I used to see the traditional cleaning methods my grandmother used and how effectively they cleaned the whole house. And when you add essential oils, they have the added benefit of making everywhere smell wonderful too!"
Every aspect of Innoscent Cleaning is as environmentally friendly as possible: from recycled business cards and cleaning equipment, through to the clothes Rebecca wears when cleaning, which are made from 70% recycled material. She even offsets the carbon emissions she cannot control by investing in projects around the world that reduce emissions through avoidance measures and clean/renewable energy.
Admitting that she had absolutely no idea about how to go about starting my own business, Rebecca turned to Outset Cornwall.
"Outset have helped me enormously. Not only do they offer an outstanding array of business workshops in an informal, friendly and empowering environment that equip you with all of the basic business acumen you require, they are always available to answer any questions or queries you may have. On the rare occasion they don't personally know the answer, they'll put you in contact with someone who does."
Advertising in one of the region's leading lifestyle magazine's and a successful presence at one of Cornwall's prestigious trade shows has meant that Innoscent Cleaning is starting to enjoy the sweet smell of success as Rebecca explains.
"The Home and Lifestyle Show was an amazing success. My customers absolutely loved my products and we nearly sold out of all our stock on the first day."
For anyone else considering setting up their own business, Rebecca's advice is;
"Be brave and just do it!…Then contact Outset. I really wish I had done it years ago."