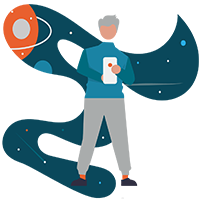 Outset Cornwall - Run Your Business Sessions Group 5 **ONLINE**
Monday, 24 January 2022
10:00 am – 1:00 pm
Online
Our Run Your Business workshops will help you learn how to run your new business effectively, including planning, marketing and selling.
The five-session programme covers:
Monday 24th January - Session 1: Branding & Promotion
When starting up, one of the biggest challenges is making you and your business known and acquiring new customers. Looking at branding overall and how it's used effectively to raise awareness and build customer loyalty, this session also starts examining potential promotion ideas and materials for your business, using real-world examples to demonstrate and discuss what works and what doesn't.
Monday 31st January - Session 2: Branding & Marketing
Taking what was learned in the previous session, this workshop will help you consider which options are best suited to your business, provide you with innovative ways of marketing your business on a small budget and show you how to develop a professional marketing strategy and plan.
Monday 7th February - Session 3: Sustainability & Resilience
As consumers and society as a whole become more conscious of important environmental issues, such as climate change and reducing our carbon footprint, this session looks at the impact this has on businesses and potential changes that could be implemented. Through activities and group discussion, we'll look at how to start formulating a sustainability plan for your business and how to communicate your sustainable values effectively.
Monday 14th February - Session 4: Selling Made Simple
Designed to equip you with knowledge and skills you can start using straight away, this workshop focuses on simple steps in developing effective sales strategies and pitches that work for your business. Using interactive exercises and discussion points to help build confidence, understand the psychology and methods of effective selling, outline processes and assist with targeting and market/customer research, this workshop will give you a super starting point and demonstrate how simple selling can be.
Monday 21st February – Session 5: Planning & Presentations
Using everything you've been learning and developing over the sessions, now you get the chance to present your complete business idea and plans to the group, so they can give you honest, constructive feedback. You'll also find out how to continue accessing advice and support after you start trading, and what other specialist workshops are available to you.
PLEASE NOTE: These workshops will take place via our online training room – all you need is a phone, laptop or tablet, with an internet connection, to join. One of our team will contact you a few days before and send you the link to use to join us.
What we ask from you:
As we are a funded project, we ask that when you sign up for our training sessions, you agree to complete 12 hours of training.