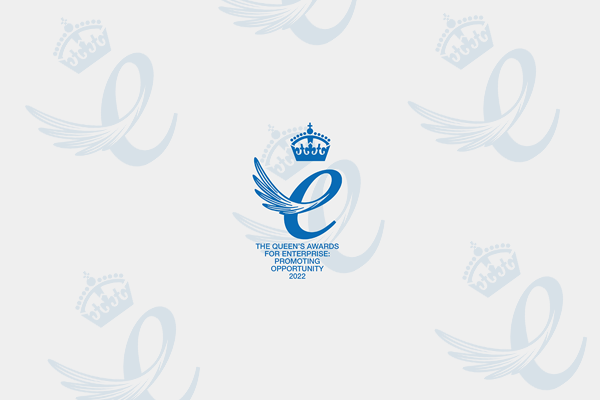 YTKO wins Queen's Award for Enterprise 2022
YTKO has been honoured with a 2022 Queen's Award for Enterprise, one of only 226 organisations to be recognised nationally.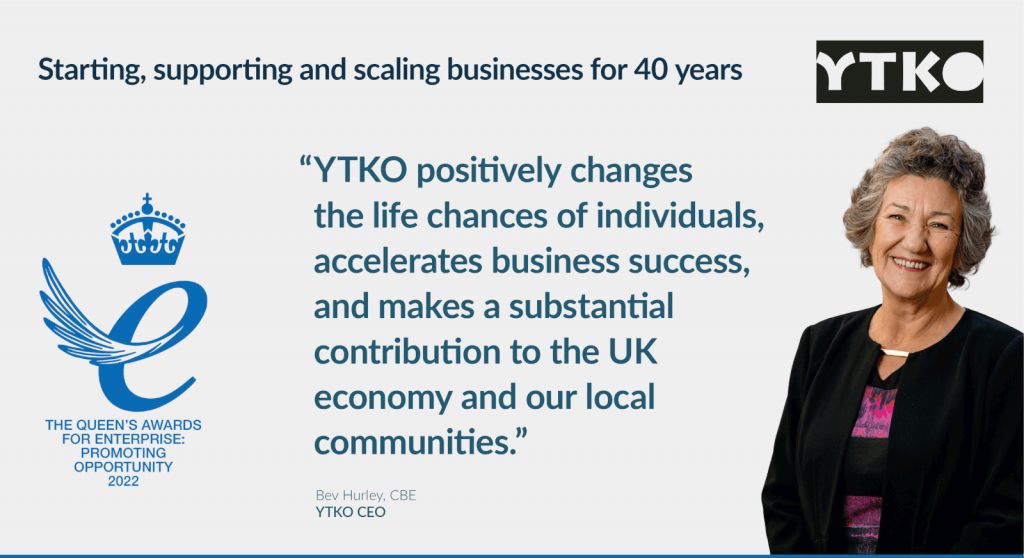 The awards celebrate the success of exciting, innovative businesses which are leading the way with pioneering products or services, delivering impressive social mobility programmes or showing their commitment to excellent sustainable development practices.
Announced today (Thursday 21 April), YTKO has been recognised for its excellence in promoting opportunity through social mobility, winning one of only nine awards in this category for 2022.
YTKO's 100+ team is led by CEO, Bev Hurley, CBE, who has previously won the Queen's Individual Award for Enterprise Promotion in 2010, and is the current Chair of the Institute of Economic Development.
"Being honoured with the Queen's Award is a wonderful recognition of the work and the impact that the whole team has achieved. Everything we do is all about making a tangible, positive impact, changing the life chances of individuals, measurably transforming and accelerating business success, and contributing to the economy and the communities in which our business operates".

Bev Hurley CBE, YTKO CEO
YTKO has helped entrepreneurs start, sustain and scale their businesses for over 40 years, through both strategic consultancy and hands-on operational support over the full lifecycle. A relentless focus on creating measurable results has contributed to economic and social prosperity by generating wealth and jobs.
An independent evaluation of YTKO's Social Mission concluded that over a 15 year period, covering recession, austerity, Brexit and Covid, YTKO helped nearly 31,000 entrepreneurs, and over 22,500 growing businesses. This work, including the raising of £73m in finance, enabled the creation of over 10,300 new jobs and a conservative estimate of £691 million GVA for the economy.
Our Outset programme was the first of its kind in UK, uniquely structured to include a combination of personal and enterprise skills development, with a starting point of 'possibility' for every person.
For new entrepreneurs, our Outset service combines personal and business skills development, and focuses on the critical success factors for sustainable enterprise. Outset services have been delivered in Norfolk, Cambridgeshire, Huntingdonshire, Bedfordshire, Essex, Hertfordshire, Suffolk, London, Bristol, Cornwall and the Isles of Scilly, Devon, Somerset, Dorset, Bristol, Swindon and Wiltshire.
Many of the entrepreneurs supported are from deprived areas and disadvantaged backgrounds – those most in need of effective support under the Levelling Up agenda.
During the lifetime of Outset, we have supported over 24,518 people:
Outset has been highly successful in engaging with individuals who were out of work prior to engagement with the programme (47% of beneficiaries) and the long-term unemployed (19%). As many as 44% were in receipt of benefit payments.
They frequently suffered multiple disadvantages, such as no or only entry level qualifications (27%), single parents, ex-offenders, English as a second language.
Over half our clients were female (national average 23%) and 20% BaME (5% nationally)
In 2011, we created our first online learning platform, Outset Online, designed to make our start-up programme more widely accessible to clients, especially those with caring or mobility barriers, or who lived in rural areas. In 2013 we became one of the governments Start-up Loan providers to help individuals access finance for the first time.
YTKO is currently delivering Outset services via three of the UK Government's Community Renewal Fund programmes, working with the Cambridge and Peterborough Combined Authority, Devon County Council and Portsmouth City Council in their respective regions.