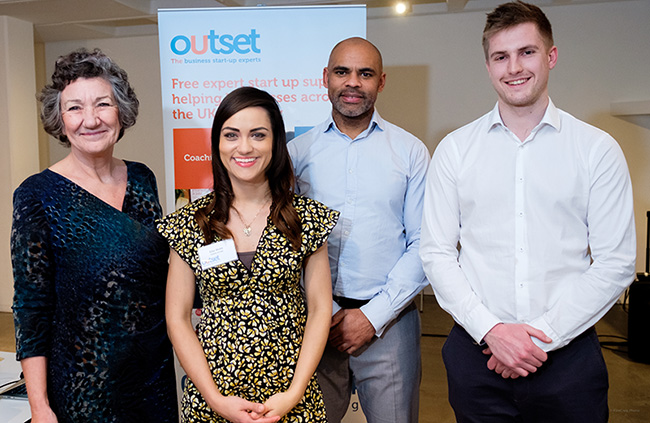 Bristol leads the way to inclusive growth
The last two years have seen Outset's Bristol branch help 200 individuals and start over 30 local businesses in the city, as part of the Enterprising West of England project, funded by the European Regional Development Fund. In this Outset programme nearly half (47%) of its entrepreneurs are from BAME backgrounds and is closely aligned to the Bristol's inclusive growth agenda.
Event attendees heard from speakers Marvin Rees, Mayor of Bristol, Bev Hurley CBE, CEO of Outset and Ellie Webb, a local entrepreneur who with support from Outset launched Caleno Drinks, a non-alcoholic drinks company.
To champion some of the now thriving entrepreneurs who have worked with Outset, 10 local start-ups were showcased at the event, with offerings ranging from hand-made bags and chilli sauces to high-end kitchen design.
Now in its 10thyear, Outset have supported over 6,000 businesses across the South West, creating over 6,859 jobs. The service has helped over 23,000 individuals become entrepreneurs in the region, through free programmes of enterprise workshops and advice.
Speaking at the event, Bev Hurley CBE, CEO of Outset said, "For nearly 10 years we've been working in partnership with Bristol City Council to reach and develop entrepreneurs in some of the most under-represented communities in the West of England.
"Working with Mayor Marvin Rees and Bristol City Council has been a fantastic experience for our Outset project. The city's commitment to inclusive growth and its thriving entrepreneurial spirit, enhances our service and we hope to be here in another 10 years celebrating another 6,000 new businesses!"
Bristol Mayor, Marvin Rees said, "Services like Outset, who support business entrepreneurs in Bristol, bring huge value to our city by enhancing its identity as a place of culture and creativity.
"We want to deliver an economy in Bristol that is inclusive and sustainable for all. To do this, the business community must work together in actively reaching out to those less advantaged communities and ensure that they are able to share in the future growth of the city."
A local success story, Ellie Webb launched her brand of non-alcoholic gin, with the help of Outset and will now see her drink available to buy in Sainsbury's stores across the UK.
Ellie said, "I came up with the idea for non-alcoholic gin when trying out a Dry January and realising that there were very few options available for people who wanted enjoy a drink without alcohol.
GetSet for Growth and Outset West of England are part of the Enterprising West of England project funded by the European Regional Development Fund, delivered in partnership with Business West, The Princes Trust and the four local authorities across the region, including North Somerset.
Pictured, left to right: Bev Hurley CBE, CEO of Outset, Ellie Webb of Caleno Drinks, Marvin Rees, Mayor of Bristol and Toby Howkins, Project Manager of Outset Bristol.
Think that Outset can help you with your business idea?
Get in touch with the team.