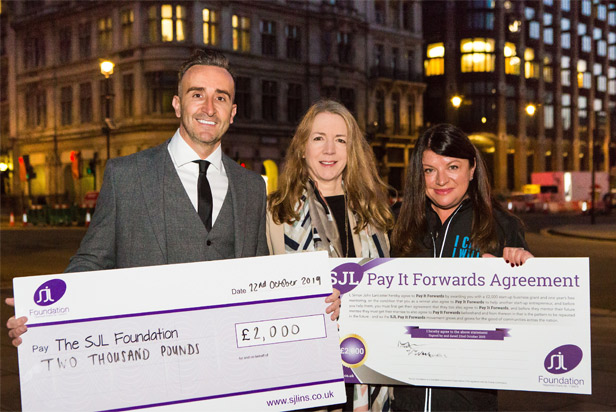 A Winning Pitch in the House of Commons!
In 2019 the SJL Foundation launched a new initiative to give 8 entrepreneurs the opportunity to pitch their new business start-up idea to a panel of 4 judges in the House of Commons.
Businesses running for less than a year had the opportunity to enter for a chance to win funding and mentorship for their business and Outset partnered with SJL Foundation to provide the opportunity to our inspiring clients. The scheme is now live for 2020 and Outset Client and 2019 winner, Victoria Winterson, talks about this incredible opportunity following her successful application last year.
MindRun4Girls is on a mission to empower all young girls to run for their head as well as their heart – embracing mental well-being as well as physical. Our programmes include mindfulness, fun running games and learning about female role models in sport. Key benefits are a self-esteem booster, stress and anxiety buster and life skills for the future.
Victoria launched the business based on her own experience, following a difficult period of anxiety 4 years ago. Using mindfulness and running to address her symptoms, slowly her anxiety began to subside and improve.
Victoria says:
"In March 2018, I decided I wanted to make a big change to my life, quit my 20 year banking job, and pass on the life skills that I had learnt about using running and mindfulness to help girls have a better mental well-being.
I started launching my programmes in schools in September that year and had begun to receive some amazing feedback. Shortly after the initial launch, Sally Marks from Outset told me about the amazing SJL Foundation Nationwide Business Entrepreneur Competition.
As entrepreneurs do, I just got straight on with it, filled in the application, did the video pitch and kept everything crossed!
I not only pitched my business in the House of Commons but went on to win the competition and was awarded £2,000 and a year's mentoring.
The grant has enabled me to expand my business and offer a wider range of girls the opportunity to participate in our programmes, as well as many other benefits. I am hugely grateful to Simon Lancaster, the SJL Foundation and Outset for all they have done for me and for MindRun4Girls.
This is just the start of our journey to enable more girls to get active and feel less anxious, with the motto "I can, I will, I run".
Knowing first-hand the challenges faced by entrepreneurs, Simon Lancaster, Trustee, SJL Foundation said:
''I am incredibly excited about what the SJL Foundation's business start-up arm can achieve for budding entrepreneurs. I established SJL Insurance 18 years ago with a Worcestershire council grant of £250 plus a grant from the Hereford & Worcester Chambers of Commerce for £250. The £500 helped me buy a desk and computer. So I want to pay it forward to help others do the same and for them to be able to pay it forward too."
To enter the competition, entrants need to email foundation@sjlins.co.uk to request an application form. The form will be emailed to entrants and applicants will have to answer questions and submit a three-minute video of themselves talking about what their business activity does, what they need the £2,000 grant for, how they'd spend it, and how they think mentoring would benefit them.
We are hoping for the winners of 2020 to be announced soon.
Think that Outset can help you with your business idea?
Get in touch with the team.