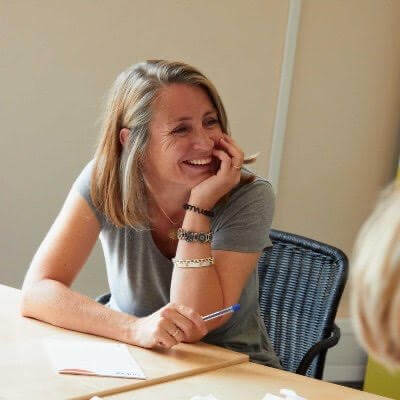 Sarah Veakins
"Entrepreneurship is about creating your own box rather than being squashed into someone else's."
The story of Sarah Veakins – Mentor with Outset & GetSet East Dorset
Having a strategy, doing your research, and building a group to bounce your ideas off are key to having a successful first year in business according to Bournemouth-based business mentor Sarah Veakins. As of June 2021, more than 4.2 million people in the UK are registered as self-employed (Ref: here), showing that starting up a business remains a popular career choice. From their office in Bournemouth, the YTKO team provides support for people looking to start a business or who have recently done so through its award-winning Outset service. Existing businesses can also access GetSet Growth for Growth which provides specialist support tailored for businesses with real potential and ambitions for growth. The services in Dorset are funded by the European Regional Development Fund and delivered by YTKO. 
Sarah Veakins has been a mentor with the organisation for more than six years and helps provide free 1:1 mentoring and marketing and finance support. She said that what makes YTKO different as an organisation was that everyone who works as a mentor,  has or had their own businesses, so they have experience setting up a successful business themselves and are best placed to offer practical advice to help budding entrepreneurs make their dreams a reality.
Sarah, who has set up and run a global consultancy in the hospitality industry, said some of her proudest moments were seeing those the organisation had helped at the start, go on to win national awards and grow. She said: "The best part of the job for me is that I get to meet the most amazing people on a journey, and when I help through mentoring, I'm a small, but hopefully essential, moment in that journey. If I can make a difference, that's job done for me. I really enjoy people's stories. And I love to work with people and show them that being your own boss is a viable option. Entrepreneurship is about creating your own box rather than being squashed into someone else's."
One of the biggest mistakes Sarah sees businesses make in their first year is money management – not getting financial advice and support, and individuals not analysing their relationship and feelings about money. YTKO also provides financial support so that businesses can get their figures in order from the start.
Sarah's top tips for start-up businesses:
      Market research. Understand that starting a business is always a risk but you can reduce that risk through in-depth market research. It's important to know as much as you can about your business area and your ideal customer profile. The more you know – the more able you are to make informed decisions about your branding, marketing and pricing.

      Being in control of their finances. Everyone understands the need for marketing to start and grow their business, but robust financial controls are equally essential.

      Confidence. One of the biggest problems we see is imposter syndrome, lack of confidence in their abilities and expertise and putting themselves out there.  Mentoring can be incredibly useful to increase confidence.

      Love to learn. There are so many skills you will need to learn, or at least understand, to start and grow a business. Our Outset and GetSet workshops and #AskTheExpert workshops offer an opportunity to learn new skills across all disciplines of marketing and finance. 
Top businesses tips for businesses that are growing:
      Never stop doing your market research, always ask your customers and clients why they chose to buy from you. Your customers will tell you everything you need to know to create a focused and effective growth marketing strategy.

      Growth takes thinking. There are many ways to grow a business and there are lots of options out there as to how to do it. Ask yourself: What are you growing? What does growth look like to you? Why do you want to grow? Growth is different for everyone. You can waste a lot of money trying to grow and growth is often not what you think it is. It's my job as a mentor to give options and help you work on a growth plan.   

      More financial planning and choosing the right funding. Growth usually requires funding and building a robust growth plan and choosing the right funding at the right time is essential. Having business support to play devil's advocate with your plans increases confidence in your decisions and reduces the risk of failure.