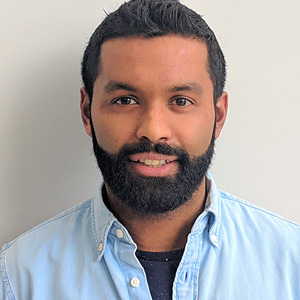 OpenMind
Ash Dey
Outset provided a fresh pair of eyes from a different perspective on my plans
Ash's story
In this case study we explore how Outset helped an entrepreneur go from nearing burn-out in a demanding technology consultancy role to starting-up his own business providing workplace wellbeing services for a variety of businesses across the UK.
Having enjoyed working for one of the large consultancies, Ash Dey found that he was prioritising 'work' activities with a desire to climb the promotional ladder in addition to philanthropy work over his self-care, resulting in symptoms of burnout, including anxiety attacks, fatigue and mental ill health. This meant that the things that Ash enjoyed doing to support his wellbeing such as long distance running, yoga at a local studio with friends and taking time to rest became less and less frequent. When the symptoms began to manifest more seriously, he knew it was time for something to change.
His first approach over 3 years ago was to try to make a difference in the consultancy company he was working within, where he and a colleague spoke with their well-being team who then provided permission to start a yoga interest group. This was to allow them to bring in external vetted yoga teachers to run yoga & meditation classes in the workplace. These classes were provided in the office, but also via Skype for remote based employees. There was great demand for this sort of wellbeing support from many staff and Ash soon found himself managing a community that grew to 550 employees, with sessions every week.
Realising that there was a need for this support within his own organisation, Ash canvased this available community as a test-bed. He also realised that if his company needed wellbeing support, then many other businesses and their employees would need the same thing and conducted interviews with HR directors / wellbeing leads to verify this. This process of validation, helped clarify many of the problem statements. Ash concluded that there was a niche in the market that he could fill.

His new venture, OpenMind supports workplaces across the UK to create diverse, inclusive and sustainable wellbeing programmes built on human connection and community.
Their online platform, CARE, enables this by
Connecting organisations with a large pool of wellbeing providers and professionals across service offerings
Administering bookings from end to end with support around internal promotion, providing regular
Reporting with insightful data. All of these enabling the workplace to
Evolve, spending their valuable time on ensuring they continue to listen to their people and stay inclusive in a sustainable way.
Ash soft-launched a beta version of his website, and promoted it through LinkedIn, personal networks and referrals form friends. Over the last few months, the business has grown rapidly, with many large SMEs and corporates coming onboard including Accenture, Atos, and Deloitte. Ash has been building a community of partners, who are wellbeing providers that are aligned in values and mission to help achieve his vision. Together they provide a variety of services to better support organisations and their employees.
Ash approached Outset when he was at the pre-start-up stage of his venture. He says that the real value from Outset was the ability to bounce ideas off our consultants, and he also gained a lot of value from the OutsetOnline content on different aspects of setting up his business. He received help in his application for a start-up loan, particularly in putting together a business and marketing plan. He also received feedback from Outset on the first iteration of his website, which provided ideas/inputs for version 2 of the website currently being built.
it was great to get a fresh pair of eyes from a different perspective on my plans. Outset provided useful ideas around my website and business model. I also found their networking events are very useful to meet people in a similar situation to myself
We asked Ash what he would recommend other entrepreneurs to concentrate on when starting up their businesses and he gave us his 3 top tips:
Start. Find a way to start, which could be as a side hustle. But the key here is to test early and build on the feedback you receive.
Prove the concept. Create something 'quick and dirty', it doesn't need to be polished, so don't spend a lot of money to start with.
Build personal resilience and look after your wellbeing. Be prepared for some people to say that they do not like your idea – take it on the chin – it probably means that you have not articulated your mission and value well enough. Treat it as a learning point.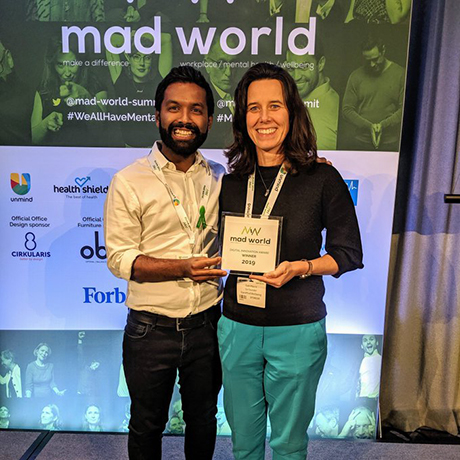 Ash says that starting his own business is the best decision he could have made as he works towards his vision to be the 'one source of wellbeing' for the workplace. Evidence of this is that OpenMind has already won a prestigious business award within 6 months of go-live. In October 2019, his co-founder, Gabriela Macra, pitched at 'Mad World', the largest B2B conference for wellbeing and mental health and won their digital innovation award.
If anyone would like to discuss workplace wellbeing with him, please do contact us on connect@openmindwellbeing.com.