Outset in Huntingdonshire
Outset Huntingdonshire offers a range of business start-up support to help you gain the knowledge, skills and confidence you need to start and sustain your own business, thanks to funding from the European Social Fund, Skills Funding Agency, Huntingdonshire District Council and Cambridge County Council.
The award-winning Outset programme was established by YTKO Group in 2009, and has helped thousands of people to start successful businesses through our innovative business start-up workshops, one-to-one coaching and networking events.

Introduction to Enterprise: Covers the fundamentals of setting up your business by helping you understand how to test the market, think of who your customers are, and where to sell. By the end of these sessions you will have completed all the basic learning to help you create a business plan for your new start-up.
Business Start Up: A combination of sessions on specific essential topics, such as social media; website design; start-up finance; and many more. As well as 1-2-1 support with your advisor to tackle your individual needs and challenges to develop a successful business.
Outset Online: Our excellent online platform is full of great content and exercises to work through in your own time. We also facilitate groups on here so that you can communicate with those you have met in workshops, and other entrepreneurs nationally… A fantastic way to build a network of like-minded people.
Outset Finance: We are part of a network of official Start Up Loans delivery partners across the UK and can help guide you through the application process. And if you receive a loan, we will then support you through your journey, providing you with a business mentor.
Events
We haven't got any events scheduled right now, but call us to see how we can help you.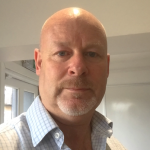 Chris Fox heads up the Outset project in Huntindonshire as Programme Director.
He has had a broad experience of starting and running small business, both for himself and through being part of our Outsets programmes supporting new start-ups.  This included a programme in Hertfordhire which engaged over 1000 people, and helped 600 unemployed individuals helping them to become self-employed under the government's New Enterprise Allowance scheme.

In addition to his Outset Huntingdonshire role, Chris is currently a director of a social enterprise running a community café and gardening business.
Want to get in touch with our Outset team or find out more about our programme? Contact us using the details below and our team will be in touch.
Call us on 0800 032 7851 or email huntingdonshire@outset.org