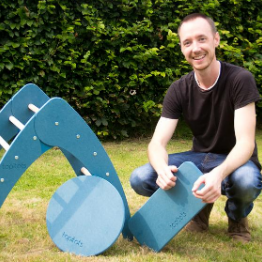 Topitots
Andrew Davey
Outset has helped me build strong foundation blocks for my business.
Andrew's story
Faced with redundancy after 15 years of working for the same employer, the prospect of entering the job market was daunting for Boscastle-based product designer, Andrew Davey. After exploring many different options, he enrolled in the New Enterprise Allowance scheme designed to support unemployed people in starting a new business and alongside this, discovered Outset Cornwall.
"For some time, I had been wanting to start my own business but never found the time to really focus on it. Being made redundant felt like the perfect opportunity. After reading some great reviews online, I signed up for Outset's business start-up sessions which really helped me to focus my ideas, take the first steps in setting up my company and rationalise my plans."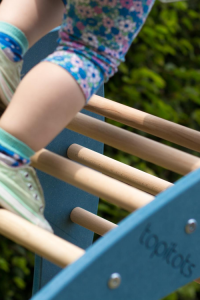 As the father of an active toddler and with extensive experience in designing and costing outdoor playground equipment and play areas, the move into making his own range of children's activity toys was an obvious one.  Andrew's company, Topitots makes fully recyclable environmentally friendly toys in Cornwall, using responsibly sourced natural materials that would otherwise have gone to landfill. The Topitots product range offers fun and exciting free play opportunities for early years children that encourage open play, movement and expression.
Andrew was in the process of getting prototypes made and launching the business in March 2020 when the COVID-19 pandemic hit the UK and most of his plans were put on hold.  Setting up a new business during a global pandemic and trying to fit this around family life would rank pretty highly on the list of challenges for anyone.
"With a small family, no childcare and a part-time job I was furloughed from, working on the business at home was temporarily put on the backburner." Andrew says. "Thankfully, I have a really supportive and understanding partner; with her help, I've been able to work on my plans in the evenings and occasional afternoons, which I spent building my website and working on product designs."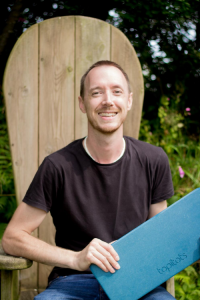 "The last few months have been seriously challenging for everyone and keeping positive about setting up a new venture has been difficult at times. Outset has been great; I find their sessions always have the effect of boosting my confidence and focus for my business which has really helped keep things on track. During the embryonic phase of starting a business, it can sometimes seem like it doesn't really exist, so being part of a community, exploring ideas and discussing progress really helps bring it back into reality."
Andrew is positive about the future now that his supply chain of raw materials has opened up again, and plans to launch his products in time for Christmas.
"My long-term goal is that I gradually expand the business with the intention of it comfortably supporting my family and providing us with the opportunity to spend more quality time together. I don't intend for Topitots to become massive with multiple staff and factories. I'd like to keep it simple but build on the brand and introduce efficiencies to ensure it becomes sustainable, giving me a reliable income."
To anyone considering joining the Outset start-up programme, Andrew says: "Do it! You've nothing to lose and you'll meet a whole bunch of other people in the same position as you. It's a comfortable environment to ask any questions, no matter how daft you think they might be, and it has genuinely helped me build strong foundation blocks for my business."
Visit the Topitots website here: https://topitots.co.uk/