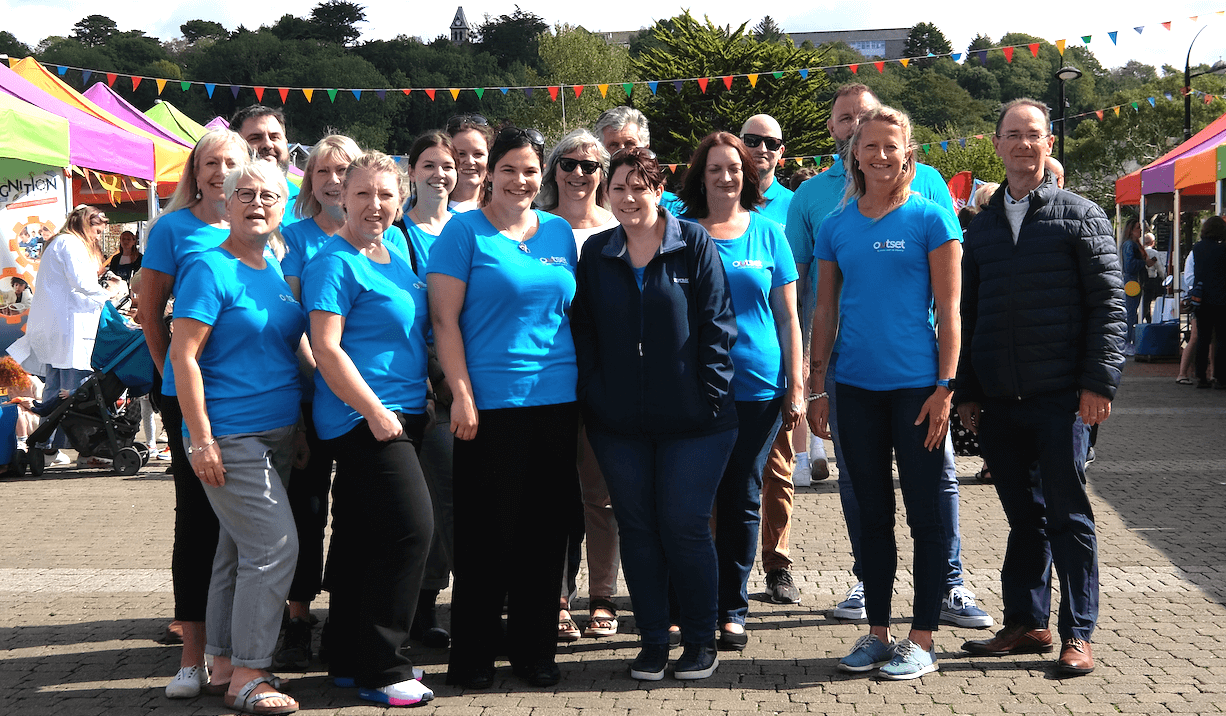 Outset Cornwall's Grand Day Out a huge success!
We are thrilled to report our Grand Day Out in Truro on Sunday (19th September) was a huge success! Following lots of planning and preparation, 23 of our Outset clients gathered under the brightly coloured gazebos on Lemon Quay to begin a transformative day of trading and business promotion.
Our market style event saw these Cornish businesses, at various stages of growth, selling their products to a very impressed and busy crowd. From clay jewellery to cooking sauces, ethical toys to hand embroidered garments, and Italian delicacies to handmade swim robes; the diversity and richness of our stalls was incredible.
A smattering of rain showers in the morning had cleared by 11am and we were treated to some bright Cornish sunshine. As part of our Grand Day Out we had a wonderful line up of live music and demos on our Outset stage. The programme kicked off with a very professional cupcake baking and decoration demonstration by super baker Emily Close.
Emily has just started her business Baker Cake selling the most extraordinary cakes, decorated to become works of art. Emily took the crowd through the steps of cupcake baking, and in a very Blue Peter-esque moment, brought out some she had made earlier for some live, autumnal themed, decoration. Her cupcakes, cookies and cakes were a huge hit and throughout the day her stall was busy with happy customers.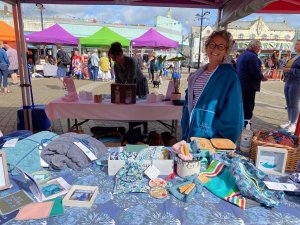 Next up on the demo stage was the enigmatic Lucy Whittaker, founder of The Threadanthropist. Lucy spoke to jolly market browsers about her journey to self-employment, and the creativity she has used to develop her business. As her first time speaking to a public crowd, Lucy appeared so professional and delivered a very interesting talk. From launching her first sustainable clothing line, to the embroidery kits she has developed and the workshops she is running, we were so proud to hear how Outset has been an important part of her journey.
By noon the sun was shining on Lemon Quay and a large, relaxed crowd of Sunday shoppers were happily browsing our clients' stalls, listening to their creative journeys and product descriptions, along with their well-practiced elevator pitches. For many of these traders, it was their first ever market so there were a lot of nerves going into the event. Through some great support and encouragement from the Outset business advisors, and bravery and investment on their part, these first timers created some very high-quality displays, and made lots of sales too!
Mellow, acoustic tunes from our live musician Sam Casey floated throughout the market during the afternoon, with lots of people stopping to enjoy the music and a sweet treat. We wanted to create lots of activities and attractions for all the family, and Little Eden's vintage lawn games didn't disappoint! From giant Jenga to limbo there was lots of family fun to be had. Kids were also treated to a special lunch time performance on the Outset stage, as Briony from Cognition Learning created a magical, and enthralling science show. She had a rapt audience of all ages, taking part in fun experiments and excitedly watching and learning as science unfolded. Briony was a big hit, and the Cognition Learning stand was busy all day with interested parents and excited kids!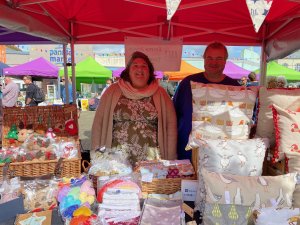 The afternoon flew by, with a buzzing atmosphere of music, mingling and lots of shoppers enjoying the creativity and beauty on sale from each of our clients. As for the Outset team, we were kept busy by members of the public interested in what services we could offer; it was wonderful to meet so many people with great business ideas! We are really looking forward to working with you all, supporting you to start, run and grow your own businesses, here in Cornwall.
Lastly, a huge thank you and well done to all of our amazing clients who took part and supported us with this event: here's to the next one!
"Events like this are a highlight of every project, bringing to life the truly diverse businesses our Outset clients have started. It's a fabulous opportunity for our team to meet all of the new businesspeople, see their products or learn about their services first-hand, it makes all the hard work worth it. Outset Cornwall's Grand Day Out is a vibrant a snapshot of the success of all of the clients who have started with support from the Outset Cornwall programme."

Kate Perkin, Outset Cornwall Programme Director
Some client feedback, after taking part in our Grand Day Out:
"I just wanted to send a quick thank you for all your amazing help, support and encouragement with the market. You're all so helpful and friendly. It was a pleasure to work with you. I really enjoyed the experience and learned a lot over the last few days. The market was a complete success. I've got amazing feedback!"

Veronica Galbriath, Republic of Happy
"I just wanted to thank everyone at Outset again for such a fantastic day! It was lovely to meet everyone on the team and socialise with some of the other sellers too."

Jemma Hartley, Pandora's Clay Box
"I wanted to say a massive thank you for all your tremendous support and efforts in organising the event, what an incredible opportunity for all of us. It was a such a fantastic day and experience, so many lovely and talented people, and learnt a lot going forward too."

Michelle Rich, Simply Art by Chelle