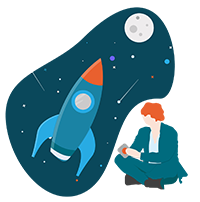 Boost Your Business - Applying for the Outset Catalyst Fund Grant *ONLINE*
Tuesday, 6 September 2022
10:00 am – 11:00 am
Online
Are you thinking of applying for our Outset Catalyst Fund Grant?
If there's a financial reason holding you back from starting your business and moving forwards, and you're considering applying for the Outset Catalyst Fund Grant, then this session is designed to help.
The Outset Catalyst Fund Grant is a source of financial help for those who can't access alternative finance or face other financial barriers such as being declined by their bank.
In this session, you'll learn more about the application process, receive expert help with completing your application and we'll help you get your business plan and cash flow forecast ready to submit to the panel.
For further information about the Outset Catalyst Fund Grant and eligibility criteria, please visit our website.
All of our workshops are taking place via our online training room – all you need is a laptop or tablet to join. After you've registered, we will email you the link you need to join the session.
Please note: You will need to have completed our Start Your Business sessions and our Run Your Business sessions and registered your business to be eligible to attend.