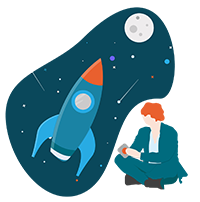 Boost Your Business Workshop - Selling Made Simple **ONLINE**
Tuesday, 23 August 2022
10:00 am – 1:00 pm
Online
Want to learn how to sell and pitch with confidence and ease?
Designed to equip you with knowledge and skills you can start using straight away, this workshop focuses on simple steps in developing effective sales strategies and pitches that work for your business.
Using interactive exercises and discussion points to help build confidence, understand the psychology and methods of effective selling, outline processes and assist with targeting and market/customer research, this workshop will give you a super starting point and demonstrate how simple selling can be.
All of our workshops are taking place via our online training room – all you need is a laptop or tablet to join. After you've registered, we will email you the link you need to join the session a few days beforehand.