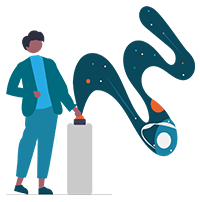 Outset Cornwall - Start Your Business Sessions (West Evening 2) **ONLINE**
Wednesday, 14 September 2022
6:00 pm – 9:00 pm
Online
Our eight-week programme will help you develop your ideas and then start and run your new business.
The eight-session programme covers:
Wednesday 14th September - Could you give yourself a job?
We explore your transferable skills, experience, strengths, and interests to help generate real business ideas, or build on an existing one, plus we start looking at your potential target markets and SWOT and PESTLE analysis.
Wednesday 21st September - Would you give yourself a job?
We look at building your customer profile, reviewing your initial market research, understanding your competition and looking at time management, goal setting and your Personal Survival Budget, plus starting a feasibility document and why it's important.
Wednesday 28th September - Introduction to Financial Planning
In this session, we start looking at Profit & Loss Accounts, plus what's needed for your annual self-assessment and advice on putting together a pricing policy.
Wednesday 5th October - Financial Planning & Forecasting
We'll show you how to create forecasts that will feed into your Profit & Loss Accounts with our simple-to-use, practical tools, plus we take a closer look at financial record keeping and requirements.
Wednesday 12th October - Planning & Presentations
In this session, we start taking a closer look at your market research results and completing your feasibility document, plus practical advice on maintaining a professional business image, elevator pitches and giving presentations. You'll also get to meet one of our advisors and find out how to access advice and further support after you start trading.
Wednesday 19th October – Branding & Promotion
When starting up, one of the biggest challenges is making you and your business known and acquiring new customers. Looking at branding overall and how it's used effectively to raise awareness and build customer loyalty, this session also starts examining potential promotion ideas and materials for your business, using real-world examples to demonstrate and discuss what works and what doesn't, and gives you the opportunity to showcase your promotional materials and ideas and gain constructive feedback from your peers.
Wednesday 26th October – Sustainability & Resilience
As consumers and society as a whole become more conscious of important environmental issues, such as climate change and reducing our carbon footprint, this session looks at the impact this has on businesses and potential changes that could be implemented. Through activities and group discussion, we'll look at how to start formulating a sustainability plan for your business and how to communicate your sustainable values effectively.
Wednesday 2nd November – Review & Presentations
Using everything you've been learning and developing over the sessions, now you get the chance to present your complete business idea and plans to the group, so they can give you honest, constructive feedback. You'll also find out how to continue accessing advice and support after you start trading, and what other specialist workshops are available to you.
PLEASE NOTE: These workshops will take place via our online training room – all you need is a phone, laptop or tablet, with an internet connection, to join. One of our team will contact you a few days before and send you the link to use to join us.
What we ask from you:
As we are a funded project, we ask that when you sign up for our training sessions, you agree to complete 12 hours of training.